Who

 we are

Golden Agri-Resources (GAR) is one of the world's largest seed-to-shelf agribusinesses. We grow oil palms with farmers and produce food and fuel for today and for the future with sustainability at the heart of our operations.
Established in 1996, GAR now has operations across 14 countries, and our products are delivered to around 100 countries worldwide, including China, India and the USA as well as various destinations in Europe and the Middle East. GAR was listed on the Singapore Exchange in 1999.
GAR is a global leader in palm oil production, producing around 2.43 million tonnes of crude palm oil (CPO) in 2022. We manage about 538,000 hectares of plantations, including smallholder farms, across Indonesia. Our downstream refining and specialty product facilities manufacture high-quality products for the global agronomy, food, oleochemical, and bioenergy markets. GAR also has complementary businesses such as soybean-based products in China, sunflower-based products in India, and sugar businesses which leverage our shipping and logistics capabilities.
The sheer scale and vertically integrated nature of our operations enable our team of almost 100,000 people to ensure efficiency, quality and sustainability across our supply chain. Our operations are innovation-driven and sustainability led, to ensure that GAR remains a global leader in sustainable palm oil production and your partner of choice.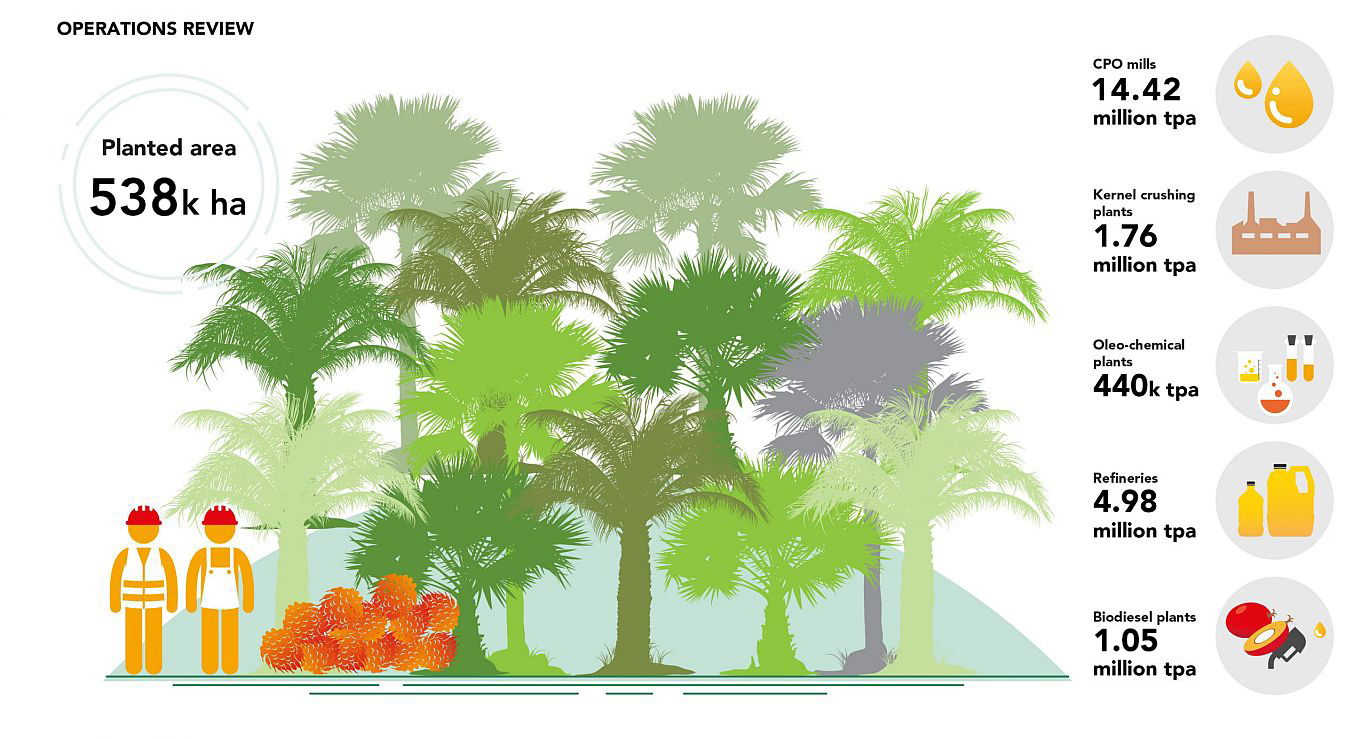 GAR is at forefront of agronomy and technology thanks to our focus and investment in R&D. We have also been expanding our downstream capabilities to produce higher value-added end products. GAR has cultivated a global, diversified customer base through strong distribution, branding, merchandising, destination processing, shipping and logistics.
With great palm oil production comes great corporate social responsibility. GAR has achieved 98 percent Traceability to Plantation (TTP) of our palm supply chain at the end of 2022. 100 percent of our plantations have social and community development programmes in place. We have also set aside 79,900 hectares for conservation.
The GAR Social and Environmental Policy (GSEP) is our roadmap to realising our twin objectives of sustainable growth and leading a sustainable palm oil industry.