We recently concluded our exciting month-long 2022 Photography Challenge in October. This annual engagement encourages our employees to take photographs as part of a competition and share them with us. The different photo categories – My Inspiration, Invisible Women, Caring Community, Wild Side, and Technology in Action – give us a glimpse into the hearts and minds of our people.
For instance, 'My Inspiration' allowed us to understand the motivations our employees seek and find around them at work. It also gives us an opportunity to acknowledge the people who inspired our employees.
'Invisible Women' allowed us to recognise our women colleagues in the business who are often unseen in this traditionally male-dominated industry.
Also, as part of this challenge, we wanted to share how we, within our different functions and capacities, came together to help the rural communities in and around our concessions. The 'Caring Community' category shared these efforts with everyone.
While some of us work closely with people across villages and in rural communities, there are many whose work requires them to be in nature. To celebrate biodiversity and highlight the need to protect the rich flora and fauna, the 'Wild Side' category was the apt go-to for our "Nat Geo" photographer friends in the company.
Our efforts to protect our people and planet rely significantly on the latest technological know-how. From the field to our R&D centres, technology plays an integral part in our sustainability journey. 'Technology in Action' showcased the importance of our R&D work to combine technology, process innovation, and expert knowledge to create sustainable solutions across the supply chain.
All these categories, thoughtfully curated, conveyed our values and mission as a responsible palm oil producer.
Our people, from across functions and geographies, have been waiting to express their perspectives creatively through the different categories. This artistic vent has helped us identify in-house talent and get more and more people interested in taking on the Photography Challenge!
Over the years, this annualised campaign has received a lot of love and support from our employees. In our first year, we received 700 entries, which almost doubled to 1,200 entries the following year. We beat our record again this year and had around 1,500 photo entries.
This year, we also introduced the People's Choice award, which saw massive online participation from our social media followers. Our Instagram engagements skyrocketed to a whopping 200,000 engagements, which is 83 percent more than last year. We also gained 5,350 more followers thanks to the popularity of this competition.
Our top three winners – the second runner-up
This year, Eri Diana Sugara, a Tank Officer at Tarjun Refinery, captured an inspiring image of his colleague's grit and determination while conducting a physically and mentally challenging training module. The photo was a marvellous testimony of our employees' attitude at work in the 'My Inspiration' category. This photo won Eri the award for the second runner-up.
The first runner-up
Our first runner-up, Tri Holan Tambunan, an Agronomy Assistant from the Bukit Perak Estate, effortlessly captures the joy shared with a companion during lunch break in the 'Invisible Women' category. This cheery photo was also a fan favourite amongst our Instagram followers and won the People's Choice award too!
The grand prize winner
Our R&D Implementation Technologist from our R&D department, Abdul Hafiedh, bagged the grand prize this year. In an industry dominated by men, his winning photo showcases women as equally essential actors in the 'Invisible Women' category again. In this photo, a female worker performs a welding procedure commonly associated with male-oriented tasks.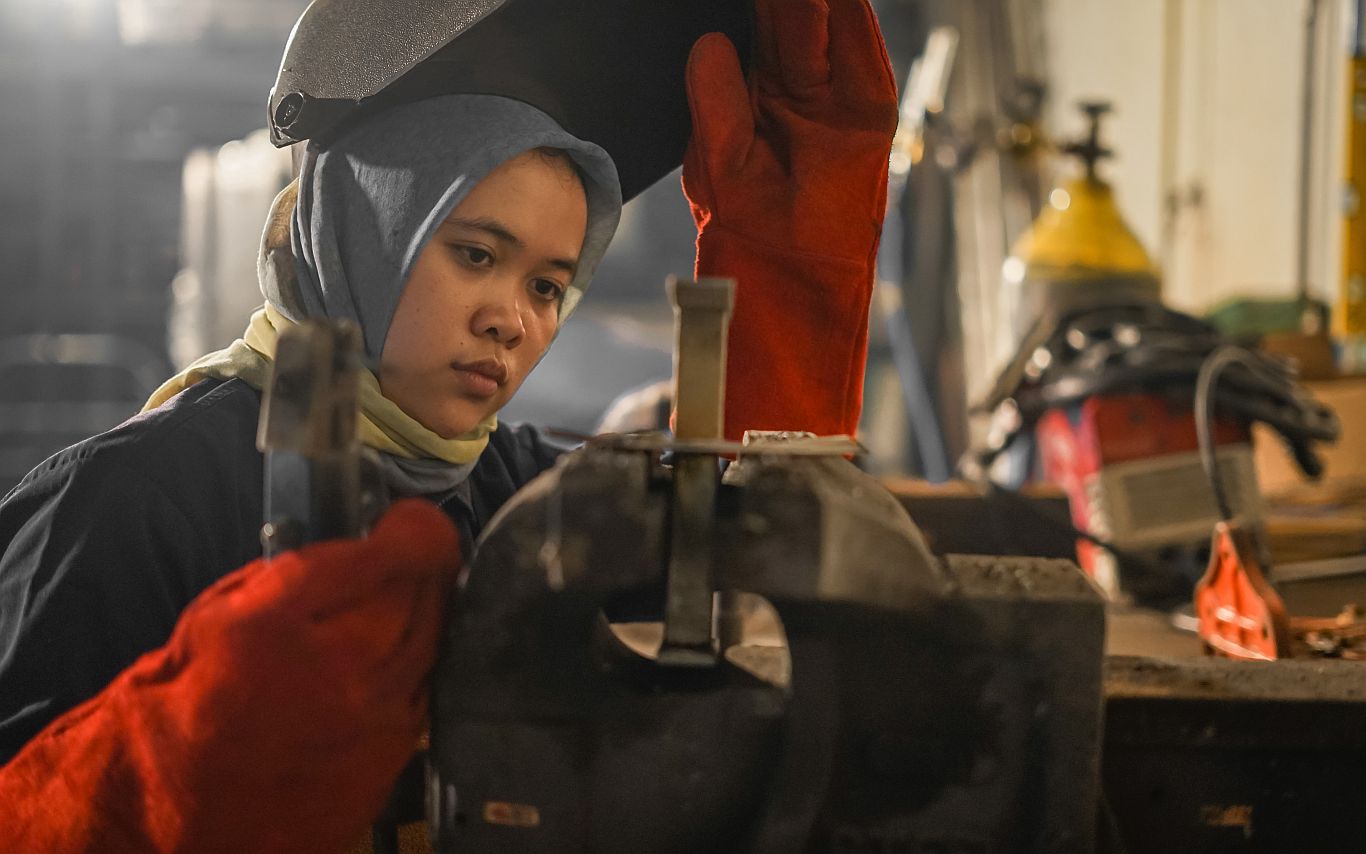 These are just our top three winners. Please visit the company's Instagram account to see the winners list.
Last but not least, we want to thank all our employees, the heart and essence of our business, who have contributed to the campaign's success year after year. Your support has been tremendous and encouraging. We hope to see you next year!