A sustainable supply chain is an outcome of a collaborative effort that ensures all actors play their part along the value chain. As a responsible producer, GAR invests in building our suppliers' capacity to improve their sustainability performance. Earlier this year, we partnered with our industry peer, Musim Mas, to train 55 supplier representatives (including factory workers, traders and farmers) in the Aceh province to ensure:
They comply with our no-deforestation commitment
They can achieve the Indonesian Sustainable Palm Oil (ISPO) certification programme
They implement Traceability to Plantation (TTP)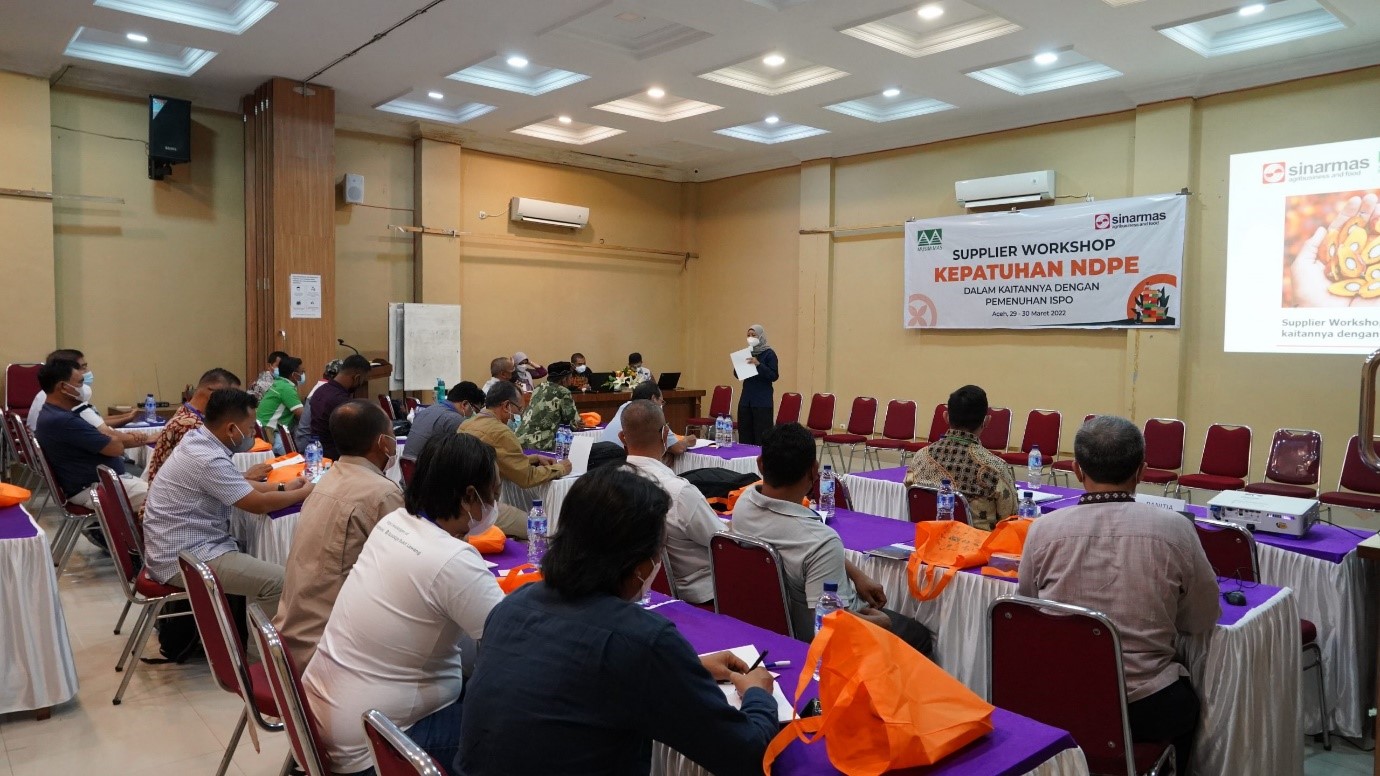 Aceh is home to one of the richest tropical rainforests in Southeast Asia – Gunung Leuser National Park (GLNP) – and other protected forest areas. It also supports several companies that supply crude palm oil to the international supply chain. In a recent documentary on Netflix – Our Great National Parks – we see former American President Barack Obama tells us about this biodiversity-rich forest. All this makes it a top priority for palm oil producers to build a sustainable supply chain that protects and conserves these forests and their rich biodiversity.
GAR has and will continue to prioritise our efforts in this region by engaging closely with our suppliers and educating them about responsible practices. We believe that a logical and effective way to transform our supply chain is to partner with our suppliers and incentivise implementing sustainable methods. Despite being resource-intensive and time-consuming, this approach has yielded positive results on the ground since its inception in 2015. Guided by our four pillars, sustainability performance assessment, TTP, grievance handling and stakeholder engagement, and capacity building—this approach assures our key customers and stakeholders of our commitment to supply chain transformation.

1. Sustainability performance assessment for a responsible purchasing process
This is the first step where we evaluate our suppliers' level of compliance with our GAR Social and Environmental Policy (GSEP), understand the existing gaps, and identify capacity-building opportunities. Typically, GAR conducts these assessments through site visits, but these visits were temporarily discontinued in 2020 due to the travel restrictions imposed by the government during the COVID-19 pandemic. During this time, we transitioned to online assessments via interviews through our SMART REACH (Remote Engagement, Assessment and Conference Call from Home) programme. Since 2015, GAR has either visited the operations or interviewed the staff of more than 50 percent of our suppliers.
As of Q1 2022, 100 percent of our 23 suppliers in Aceh have completed and submitted their Supplier Self-Assessment forms. Their inputs inform us of the capacity-building workshops we need to organise to update their skills and knowledge. This year's workshop in Aceh announced that GAR is returning to the practice of face-to-face supplier engagements and workshops.
2. Traceability to Plantation (TTP) to guide supplier mills
Traceability and transparency allow us to identify the source of our raw materials. Acquiring this information helps us trace and course-correct weaknesses and challenges along our supply chain by educating our farmers about sustainable farming practices. TTP plays a critical role in reducing deforestation. It helps us alert our mills of the risk involved in sourcing from a plantation company with a recent history of deforestation.
GAR receives quarterly TTP declarations from our 23 supplier mills operating in Aceh. Their efforts to ensure traceability has improved from 36 percent in 2019 to 97 percent in 2021. As a result, we know the origin of 97 percent of our fresh fruit bunches.
Among these 23 mills, 11 have already signed up for our Ksatria Sawit programme, which assists these mills in digging deeper into the supply chain and identifying and mapping the individual smallholders. So far, 11,458 smallholders in Aceh have been registered in our database.
Also, 70 mills have registered for our Ksatria Sawit Programme across our entire supply chain in Aceh and other provinces. By the end of 2021, around 118,000 smallholders were recorded in our database.
Thanks to TTP, we can exercise control over our supply chain to ensure a no-deforestation supply of crude palm oil into our refinery.
3. Grievance handling and stakeholder engagement to remedy supply chain issues
This is an important part of supply chain transformation that requires businesses to take heed of and ensure that relevant remedial action is taken once they have identified a drawback along the value chain.
Over the past five years, one of our International stakeholders, Rainforest Action Network (RAN), identified at least six plantation companies with a history of deforestation and who can potentially be linked to the mills supplying raw materials to our refinery in Belawan. Upon receiving the grievance information from RAN, GAR deployed a team to investigate the mills' sourcing practices and also run due diligence on the plantation companies that had been identified. Based on our investigations, we decided to stop buying from these plantation companies until they could demonstrate their no-deforestation commitment. These interventions have positively impacted our supply chain and reputation as a responsible palm oil producer.
Four of the six plantation companies – Laot Bangko, Agra Bumi Niaga, Indo Sawit Perkasa, and Due Perkasa Lestari – have adopted either a moratorium on new plantation development or a no-deforestation commitment. Today, GAR is using a high-tech satellite imagery tool to monitor the remaining forests inside the concessions of these companies.
This is just one of the examples of how GAR responds to feedback as part of its efforts to build a sustainable supply chain.
4. Capacity building to achieve lasting supply chain transformation
Building and strengthening the capabilities of all the players along our supply chain is essential if we achieve and sustain a robust and responsible value chain. This includes training and empowering our smallholder farmers with sustainable and responsible farming practices.
Most suppliers don't have the budget and resources. Especially in Aceh, the fresh fruit bunch supply chain consists of mostly small-sized, independently operated mills and tens of thousands of smallholders. Since 2015, we have conducted 19 capacity-building workshops in Aceh. Like the workshop we hosted in April this year, these sessions teach core sustainability competencies like certification, safety, conservation, and traceability, among others.
We have collaborated with qualified partners – like Koltiva and Mars – who have helped us train 1,363 smallholders in good agricultural and sustainability practices. In the future, we plan to invest in at least two face-to-face workshops a year. We aim to train 3,000 smallholders by the end of 2022.
5. An effective reporting framework for ongoing progress
It is important to evaluate our efforts and convey our progress to our stakeholders so they remain informed of our ongoing commitment in the area of deforestation and peat. GAR's reporting tool – the No Deforestation, No Expansion on Peat and No Exploitation Implementation Reporting Framework (NDPE IRF) – helps our stakeholders track our progress in our no-deforestation commitment. This report shares information on our refinery sourcing profiles per the NDPE Implementation Reporting Framework.
In this report, stakeholders can see the different percentages of crude palm oil volume by their performance level:
A 'delivering' status in green represents production verified as compliant with our no-deforestation commitment. For example, GAR mills fall in this category.
'Commitment and starting action' represent production where the mill has committed to a no-deforestation commitment but has recently begun implementing its verification system. For example, the four plantation companies, Laot Bangko, Agra Bumi Niaga, Indo Sawit Perkasa and Due Perkasa Lestari, fall in this category.
Here's a graph that reports our efforts at our refinery in Belawan:
The percentage of 'delivering' under our no-deforestation efforts has improved, from 53 percent in 2020 to 63 percent in 2021.
Under our no-peat efforts, our results have bettered from 64 percent in 2020 to 83.9 percent in 2021.
These refinery sourcing profiles guide us on where to focus our resources based on the performance of our refineries.
Ongoing monitoring and assessments are key to achieving sustainability goals. Through a collaborative approach, we can successfully assess our suppliers' compliance with sustainability standards, educate and incentivise them to implement the relevant responsible practices, and over time, ensure supply chain transformation within the palm oil industry.
GAR plays an active role in ensuring the sustainable transformation of the palm supply chain. Learn more here.
If you want to learn more about GAR's commitment to sustainability, read here.