Golden Agri-Resources (GAR) has been at the forefront of Indonesia's Smallholders Replanting Programme (PSR), which replaces old, unproductive oil palm trees with new ones.
Sounds straightforward? Well, not quite. The planting is the easy part but finding another plot of land, getting approvals, and securing loans for independent smallholder farmers who manage their own plantations are anything but simple. We share how it works.
Our first step is to identify existing parcels of land in a 30-kilometre radius of an oil palm mill that is suitable for replanting. The land must meet all legal, environmental, and social criteria so that smallholders can apply for sustainability certification in future.
The smallholder's land must be in the right area―not in a forest or peatland and not in moratorium or dispute as well as follow regional spatial planning. Some limiting environmental parameters include:
Peatland Ecological Function (Fungsi Ekologis Gambut/FEG)
Peatland Hydrological Area (Kawasan Hidrologis Gambut/KHG)
Minister of Forestry Decree on Forest Areas and Waters (SKHP map)
Indicative Map for Moratorium on New Licences (PIPPIB)
Map for Legal Boundaries of Core/Plasma Plantation Estates
Riparian Areas
Land System and Land Suitability (LSS)
Regional Spatial Planning (RTRW)
Next, public consultations are carried out to get the community's response to the PSR programme. We conduct dialogues with smallholders, community and religious leaders, indigenous communities, farmer economic institutions, village and local governments, NGOs, universities, and many more. We review their responses in three main aspects.
Sociological perspectives on community's culture, history, conflict potentials, and mapping, community's structure, prominent characters mapping, land ownership, public perception, and expectation, as well as mapping of community's resistance and accommodation.
Demographic perspectives from local government and village government on population, religion, ethnicity, and livelihood.
Economic perspectives consist of economic condition, source of livelihood, agricultural pattern, land productivity, and potential of natural resources.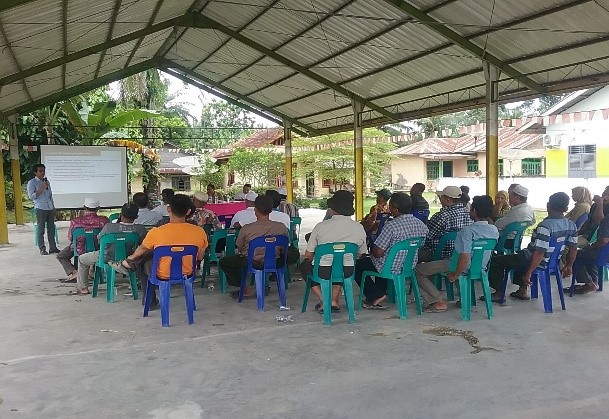 Then comes the sustainability assessments for the identified piece of land. We carry out a Land Tenure Study, Participatory Mapping, Social Impact Assessment, High Conservation Value (HCV), and High Carbon Stock (HCS) assessments. We also have to fill out all the necessary environmental permits such as SPPL, UKL-UPL, and AMDAL.
During these assessments, we keep in close contact with the community members and disseminate relevant information to them, as part of our Free, Prior, and Informed Consent (FPIC) protocols.
After that, we organise door-to-door visits with smallholders to collect these data as part of the PSR programme application:
Land documents (SHM/SKT/SKGR/Girik)
Smallholder documents (registration form, statement letter, identification card, family register, and certificate of marriage)
Cooperative documents (legal documents for establishment and business operations)
Partnership documents (partnership agreement and Prospective Farmer and Prospective Land (Calon Petani Calon Lahan/CPCL) document)
Land measurement is a follow-up step after a smallholder completes his/her registration and supplies all the required documents. This step is conducted with the landowner, boundary farmer, and a witness, for identification of land boundaries, in compliance with regulations. The land is measured and mapped in terms of its location, delineation of boundaries, and total area, to prevent social conflicts arising from land disputes.
Establishing partnership
The final few steps in the programme's journey are to establish the partnership and funding with banks before we begin the replanting.
We start the final phase by facilitating the formation of an economic institution for smallholders through cooperatives or farmer groups. This is essential in strengthening the smallholder's position. GAR believes a strong and empowered cooperative or farmer groups/associations (Gabungan Kelompok Tani/Gapoktan) is key to establish an equal partnership.
In terms of funding for the PSR programme, GAR has established a partnership with banks and the Palm Oil Fund Management Agency (BPDPKS). The funding is agreed by three relevant parties―the company, smallholder, and cooperatives or farmer groups before replanting. High replanting costs put a heavy burden on the smallholders, so we help them with the process of accessing government funding through BPDPKS. Additionally, we work closely with Bank Rakyat Indonesia (BRI) to ensure that replanting costs can be covered. This includes compensation funds provided by the company through bank loans for smallholders for IDR 500,000/ha/month for four years to help them support themselves before the oil palm trees reach their maturity stage.
Collaboration and cooperation are key factors in the success of a smallholder's replanting journey. GAR's responsibility is not limited to replanting; we want to help improve smallholders' livelihood and ensure the sustainability of palm oil as one of the nation's strategic commodities. The road may be rough, the journey may be tough but they are stepping stones to replanting a more productive future.
Read about our Free, Prior, and Informed Consent processes in replanting here.
About the writer:
Nana Suryana was a former National Consultant for Assistance & Empowerment of Village Communities at the Ministry of Villages, Development of Disadvantaged Areas & Transmigration in Indonesia. He now works at Sinar Mas Agribusiness and Food as a PSR Improvement Specialist. One of his main tasks includes developing a strategy to accelerate the PSR programme. Outside of work, Nana loves to spend his time writing articles and novels.