Look around in the supermarket, and you will find many food products in some type of packaging or container made from plastic, paper, rubber or metal. Although this packaging may seem harmless, did you know that some chemicals can find their way into your food from the packaging? Mineral oil hydrocarbon (MOH) is one such chemical.
MOH is found almost everywhere in the environment. It can enter food anywhere along the food processing chain. MOH varies in size, structure, and is categorised into two main types – MOSH and MOAH.
MOSH stands for Mineral Oil Saturated Hydrocarbons, which are a health concern. MOSH is known to accumulate in the liver and lymphoid system, causing inflammation.
MOAH stands for Mineral Oil Aromatic Hydrocarbons. MOAH may be carcinogenic (cancer-causing), but there is currently insufficient data to determine the set limits for the MOAH levels in food. Nonetheless, MOAH migration into food must be minimised due to its carcinogenic potential.
How do MOSH and MOAH enter our food?

MOSH and MOAH can contaminate food at any point in the processing chain, from raw materials, storage, transportation, production to packaging materials.
The primary sources of MOSH and MOAH are adhesives, printer inks, and packaging materials1. It can also be found in some recycled packaging. Other sources include hydraulic oils used in machines that produce and package our food. Even gases in the environment, such as exhaust fumes from vehicles and emissions from industrial plants, can cause MOSH and MOAH contamination throughout the food production process2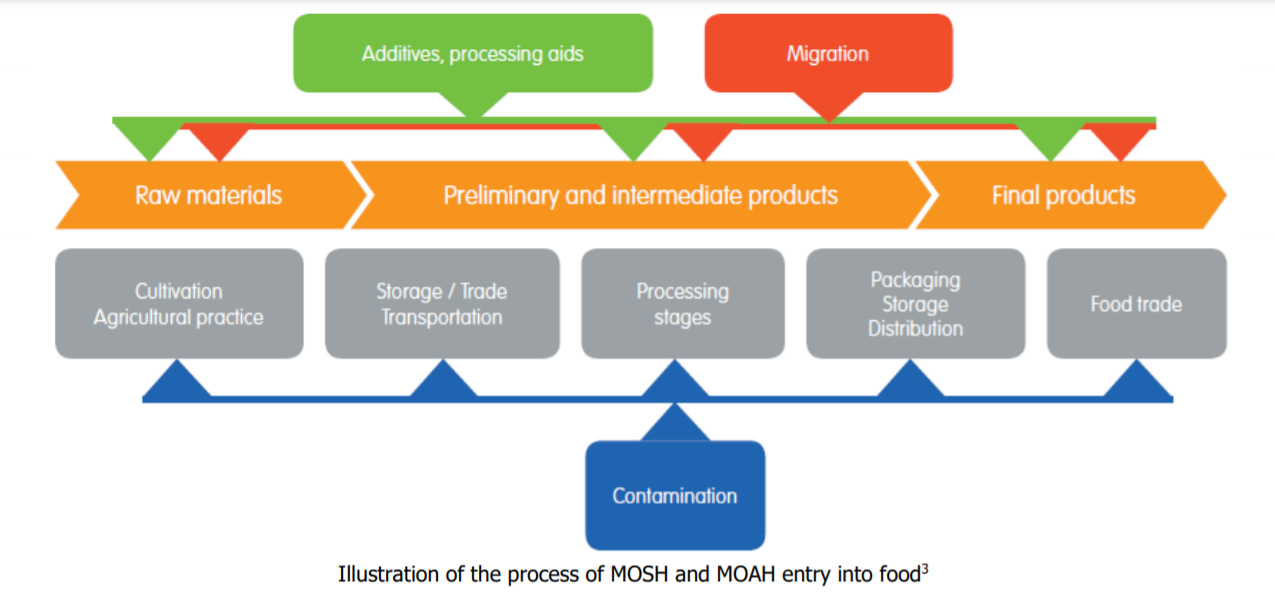 Source: BLL Spitzenverband der Lebensmittelwirtschaft (German Federation of Food Law and Food Science)
As MOSH and MOAH can contaminate our food at any point in the process, food brands and companies must take note of how they are mitigated — to protect consumers from eating contaminated food.
How are MOSH and MOAH regulated?

In 2017, the Belgian Food Safety Authority FAVV issued MOSH (C16-C35) action limits in food as follows:
| Products | MOSH levels |
| --- | --- |
| Milk and milk products | 5 mg MOSH/kg |
| Cereals | 15 mg MOSH/kg food |
| Vegetable products, snacks, and desserts | 20 mg MOSH/kg food |
| Products of animal origin, sugar, and confectionery | 30 mg MOSH/kg |
| Fish and fish products | 60 mg MOSH/kg food |
| Spices and herbs | 70 mg MOSH/kg food |
| Animal and vegetable oils | 100 mg MOSH/kg food |
| Vegetables, tree nuts, oilseeds, and egg products | 150 mg MOSH/kg food |
For paper packaging, both the EFSA and German Federal Institute of Risk Assessment (BfR) recommend that the migration limits of hydrocarbons for C10 -C16 are 12 mg/kg, and for C17-C20, 4 mg/kg.
Food packaging made from recycled paper contains high levels of MOH. The 22nd draft ordinance by the Federal Ministry of Nutrition and Agriculture (BMEL) states that MOAH (from MOH) is not allowed in recycled FCM. This requirement may be exempted if the packaging manufacturer can keep the MOAH levels within acceptable standards.
Currently, there is no global regulatory standard that sets out maximum levels for MOSH and MOAH, but European authorities have issued several recommendations. This information allows Golden Agri-Resources (GAR) to know and ensure that our production processes and packaging follow best practices and recommendations for MOSH and MOAH mitigation. We place a strong emphasis on strictly adhering to these protocols throughout the entire process from seed to shelf.
How does GAR ensure the safety and quality of our products?
As a leading palm oil producer, GAR is committed to ensuring that our products are safe for consumption. MOSH and MOAH are not present in fresh fruit bunches (FFBs), the raw ingredient used to produce palm oil. To continuously deliver high-quality products, our practices are improved through investing in research and development, quality assurance and quality control facilities and equipment.
Our Marunda R&D Centre is the first lab dedicated to fats and oils in Indonesia. It is ISO 17025 accredited, meaning competence, impartiality and consistency in operation. This is especially beneficial to customers who serve an international market because they can be assured of reliable and secure analyses which conform to a global standard when they need new product concepts or other specific needs.
Our refineries are implementing Quality and Food Safety Management System (ISO 22000/FSSC 22000), for which these MOSH/MOAH risks have been taken into consideration in this system.
In 2019, GAR started an internal study into the MOSH and MOAH issues engaging a third-party laboratory in Germany, testing samples from our refineries and investigating potential mitigation options. The study covers our entire supply chain—own refineries, own mills and 3rd party mills to identify the critical process points where the contaminants are introduced.
Steps are taken to address any possible source of MOAH or MOSH. And monitoring is in place to ensure the results meet the safety standards set out by customers (food brands/companies) and regulators. Our commitment to the quality of our products will not only further improve end-consumer safety but reduce our environmental impact through our carbon footprint.
As a fully integrated business, we can customise safe and high-quality palm oil products. Reach out to find out more.
If you would like to find out more about our supply chain, read here.
1) https://www.sgsgroup.de/-/media/local/germany/documents/flyers-and-leaflets/agri/sgs_faq_mosh_moah_en_0218.pdf
2) https://www.produktqualitaet.com/en/food/contaminants/mineral-oil-hydrocarbons-mosh-moah.html