Empowering

communities

The global COVID-19 pandemic has shown that it is critical to ensure farming communities, who form the basis of food supply chains and global food security, are taken care of and empowered. When communities are empowered with the means to earn a decent living, poverty reduction will follow. In many developing countries, palm oil is synonymous with poverty eradication. In the past few decades, the palm oil sector has played a critical role in helping to raise incomes and improve livelihoods of smallholder farmers in tropical developing countries such Indonesia and Malaysia. Communities living in rural remote areas in particular, have benefitted vastly from palm oil development.
As one of the largest palm oil companies in Indonesia, GAR recognises the enormous benefit palm oil can have on the lives and livelihoods of the communities in and around our estates. Golden Agri-Resources (GAR) has created thousands of jobs in rural and remote areas.
We run a range of social and community development programmes for all of our concessions. We have also helped build public infrastructure such as roads, bridges, community halls, and places of worship. Our work in these communities contributes to the aims of a variety of UN SDGs especially tackling poverty, improving infrastructure and reducing inequalities.
Health
Hear from a doctor in the field:
Serving the healthcare needs of palm oil communities
Education
Hear from a teacher on the ground:
Palm oil is shifting the outlook of education in Indonesia
Livelihoods
Communities improve their food security:
Uplifting communities through the Bright Future Initiative
Community-conservation partnerships
GAR also recognises that the establishment of plantations can create challenges for local communities and indigenous people. We are committed to respecting human rights and fulfilling Free, Prior and Informed Consent (FPIC) requirements before commencing any development of land.
Our work with local communities through community conservation partnerships is at the heart of our forest conservation efforts. GAR has pioneered inclusive and collaborative approaches such as Participatory Mapping (PM) and Participatory Conservation Planning (PCP).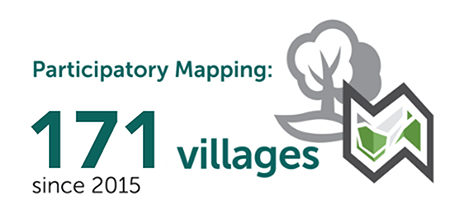 GAR also carries out Environmental and Social Impact Assessments (EIA and SIA) prior to developing an estate. We learn about the needs, wants and aspirations of the local communities. The results are then integrated into our PM and PCP approaches.
Through PM and PCP, GAR and local communities map out land use in its concessions together. The mapping allows all stakeholders to identify and designate critical areas for the community such as areas important for food security as well as conservation. The exercise also allows us to involve the community in conservation planning. To date, 171 villages have taken part in PM. As a result, GAR has secured agreements with around 22 villages to protect more than 43,00 hectares of forest. This is in addition to the conservation area we have already set aside in our concessions.
Bright Future Initiative
We introduced Bright Future Initiative as a means of managing the environmental impact of traditional farming. Our programmes educate independent farmers on sustainable agricultural practices, and introduce communities to new crops that enhance food security.
This way, communities can improve food self-sufficiency and resilience while supporting conservation goals. To date, 76 communities have reaped the benefits of GAR's Bright Future Initiative.
Interested in joining forces with GAR to empower and uplift communities?
Read more about GAR's engagement with communities