The need for transformation in the palm supply chain
The palm supply chain is complex, ranging from large scale producers like ourselves to family farms and independent mills. Across the sector, uptake of sustainable practices is mixed.
GAR works with thousands of suppliers in our palm supply chain. To operate responsibly, we must ensure our third-party suppliers are implementing sustainable production practices as well.
The first step in bringing about this supply chain transformation is proactively tracing our suppliers and their sources. After which, GAR engages them continuously in improving their No Deforestation, Peat and Exploitation (NDPE) practices. We also work with NGOs and agtech companies to achieve a fully transparent and responsible supply chain.
GAR's transformative efforts also minimise disruptions and risks to our supply chain. This is key to create a palm oil industry that is responsible as well as resilient, to weather turbulent times.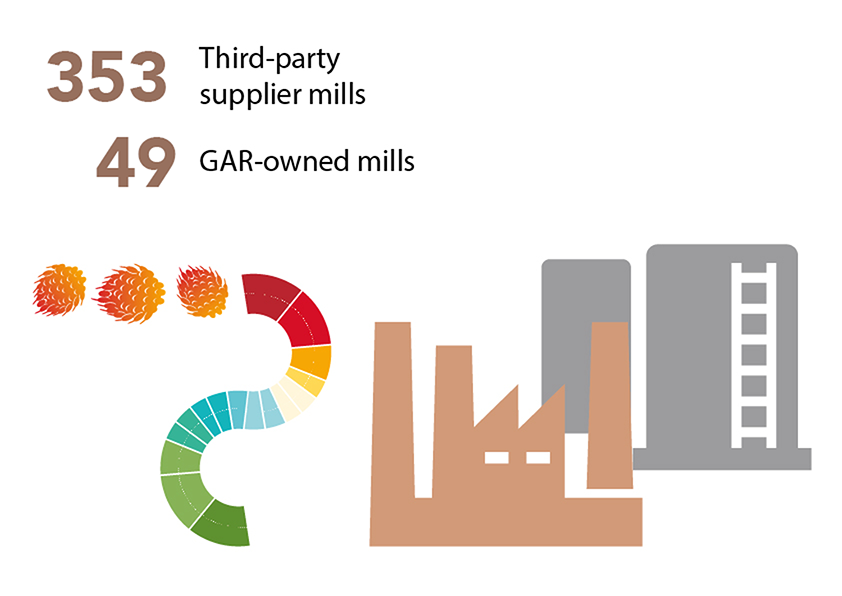 Achieving progressive traceability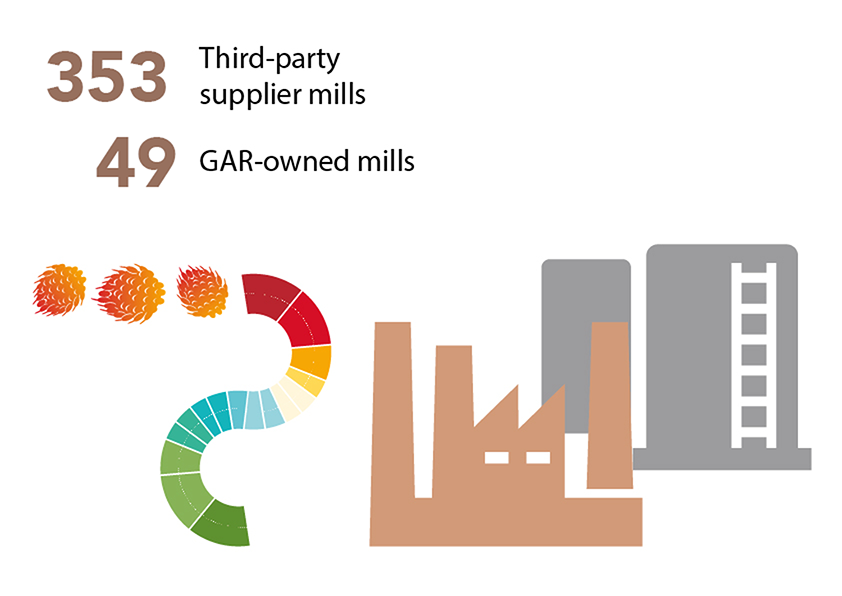 Traceability is a key metric of our supply chain transformation efforts. It means being able to track our end products back to their origin. GAR is committed to a fully traceable and transparent supply chain. We want to know where the Fresh Fruit Bunches
(FFBs) are sourced from, and whether the oil is produced in a sustainable manner. With full traceability, GAR can guarantee the origin of the raw materials used in our palm-derived products, for our customers and end-consumers.
Traceability is a strong commercial driver as well. Customers are increasingly discerning and want to know the origin of their raw materials. To secure traceable volumes, customers may be willing to pay a higher price, commit to large purchases or longer term contracts.
Traceability to the plantation
As of end 2015, GAR achieved and continues to maintain full Traceability to the Mill (TTM). Currently, GAR is working towards full Traceability to the Plantation (TTP).
GAR-owned mills achieved 100 percent TTP at end 2017, and we are working closely with our third-party supplier mills to achieve the same result. As of end 2022, GAR has achieved 98 percent full TTP for our palm supply chain.
Helping our suppliers achieve TTP
A mill achieves TTP when they meet the following criteria:
Can identify all sources of FFB
They must know which plantations the fruit they receive and process come from. This includes having relevant information such as exact location and details of ownership.
Have standard operating procedures to document the movement of FFB
They must have processes in place to document movement of the fruit from plantation to their mill. This includes chain of custody documents when the FFB ownership changes hands from farmers to any intermediaries before entering the mill's weighbridge.
Undertaking traceability to plantation can be daunting for suppliers. A mill sourcing mostly from external plantations and independent farmers will have to put in more effort than an integrated mill buying only from its own/affiliated estates. There are also mills who deal with intermediaries/FFB agents who accumulate FFB from many independent farmers.
We work with our suppliers to devise practical action plans to achieve traceability to plantation based on their sourcing. Including independent farmers and other intermediaries involved in FFB trade is an essential part of this process.
Ksatria Sawit programme
GAR launched the Ksatria Sawit (Palm Oil Warrior) programme in 2019 to help accelerate the traceability process in its final stretch. The programme covers Aceh, North/South Sumatra and Riau where many of our supplier mills are buying from smallholders and agents.
At the end of 2022, over 140,000 smallholders registered under the TTP Ksatria Sawit programme.
Read more about our work in supply chain transformation