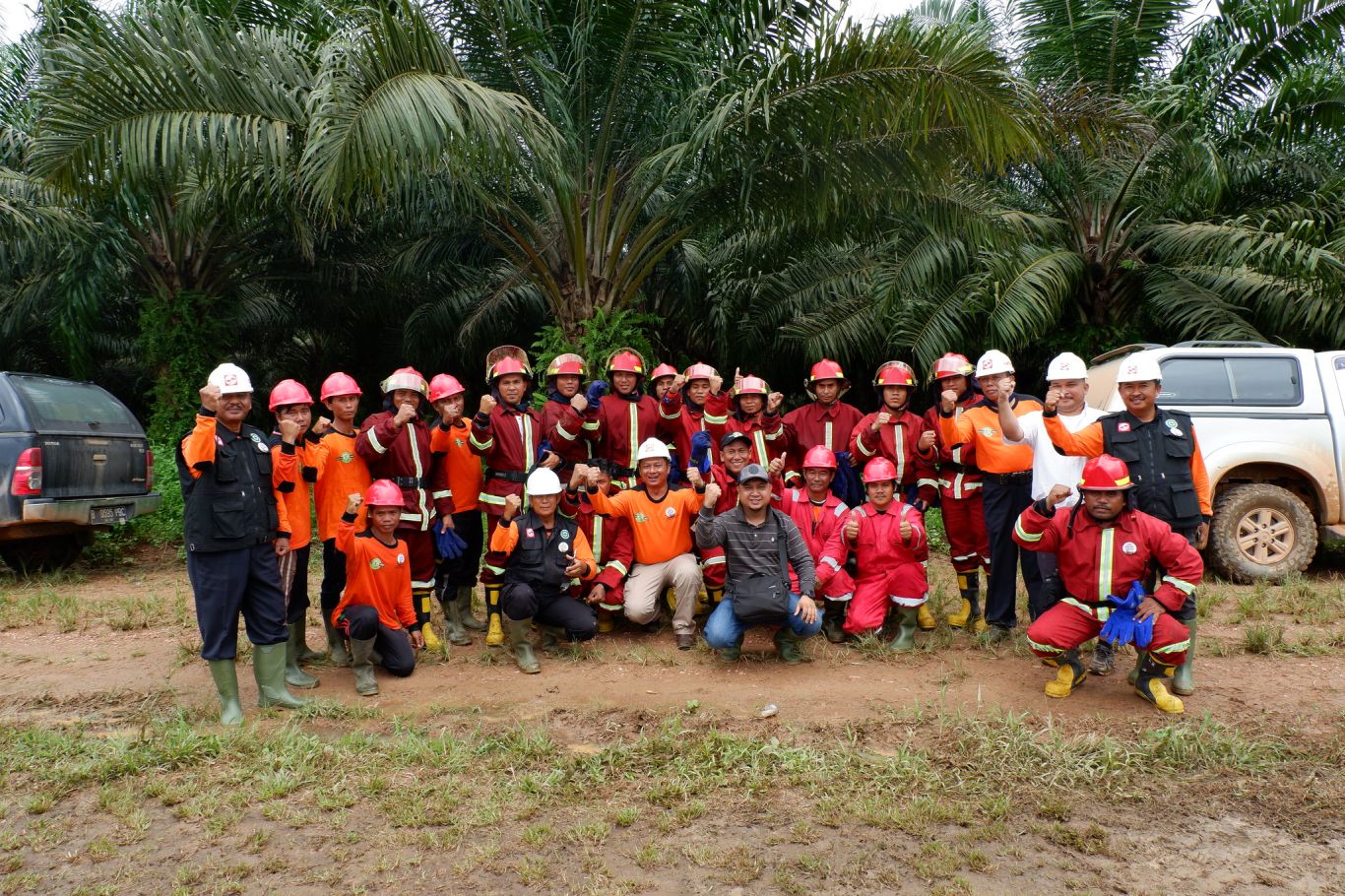 In Indonesia, forest and peat fires are a persistent issue and are common during the dry season that typically runs from April to September. Many of these fires are linked to traditional land development practices, where farmers burn the land to prepare it for cultivation. An effective way to prevent, monitor and stop the spread of these fires is to collaborate with the farming communities and educate them about fire prevention and sustainable cultivation methods.
The main reasons why we need to address this perennial concern of forest fires and the resulting haze in Indonesia, are that:
It causes harm to human health, especially in the rural communities where the fires occur.
It causes loss of biodiversity, devastating ecosystems and the species that rely on them.
It contributes heavily to global climate change as greenhouse gases (GHGs) are released into the atmosphere when forests burn.
Haze can depress the production of oil palms, making it bad for business too.
Indonesia's seasonal fires are one of the country's most persistent environmental issues. During the dry seasons in 2021, as many as 1,500 NASA fires alerts were traced back to ten industry tree concessions in the region that belonged to palm or paper plantations. Investigations revealed that most of these fires occurred in Kalimantan, Sumatra and its surrounding islands, also across East and West Nusa Tenggara. But a majority of these hotspots were not started by concession workers to clear land but by people living inside and around the concessions engaging in slash and burn agriculture.
This is where palm businesses can play an active role in collaborating with traditional farming communities – to educate and train them to prevent these fires. Of course, it isn't as easy as it sounds. Asking a community to change its traditional practices requires time and a well-thought-out strategy.
In the past few years there has been a reduction in the number of fire incidents, owing to government efforts and the sustainability measures taken by palm businesses. This is an assuring start. According to the Ministry of Environment and Forestry of Indonesia, there has been more than 50 percent decrease in land fires, between 2020-2021.
Golden Agri-Resources (GAR) engages in long-term solutions to tackle forest fires in and around our concessions. In 2016, GAR launched Desa Makmur Peduli Api (DMPA), a long-term fire prevention community programme for villages that were within the most fire prone areas and shared a history of repeated incidents of fire. These villages under the DMPA programme have been provided with training on fire prevention, basic fire-fighting infrastructure, and early-warning processes to deal with the risk of fires.
Since its launch, the programme has been effectively implemented in 90 villages across Sumatera and Kalimantan. Some of these villages have shown an assuring drop in the number of fire incidents. For example, in Riau province, we recorded zero fire incidents inside and near our company's concession, in 2020. Our ongoing community engagement and assistance, has encouraged the local communities to stop burning land for agricultural purposes. All this goes to show how collaborative efforts like the DMPA programme can be helpful in preventing land fire and how it is feasible and even successful in handling the concern proactively.
At the community level, the DMPA programme addresses three key needs:
It identifies and builds a team of volunteers from among the community – Masyarakat Siaga Api (MSA) – to protect the village from fire.
It works with the community to restore peatlands.
And it works towards ensuring food security through Integrated Ecological Farming (PET).
As part of its ongoing holistic effort to change the community's mindset and discourage them from burning forests, the programme educates children too. While it focuses on forest conservation and food security, its main objective is to educate the rural community about the environmental impacts of land fire.
Technology has helped us track and monitor incidents of fire across the region. A satellite that serves as a constant 'eye in the sky' and a drone that gives us a bird's eye view help our MSA and Emergency Response Team (ERT) in the field to take immediate action.
In 2022, we plan to extend our fire prevention efforts to other fire-prone areas that require our attention. This would include large areas of peatland across our company's operations in Kalimantan and Sumatra, and a number of potential hotspots in and around the company's concession in South Sumatra, West Kalimantan, and Jambi.
Also, areas that have seen comparatively lesser community engagement in the past will now be on our priority list, under the DMPA programme.
Some of our planned efforts include:
Ongoing community engagement:
Continuing the DMPA programme in the existing villages and expanding to other nearby villages around our company's concession.
Supporting the local community education about eco-friendly agricultural practices using Integrated Ecological Farming to avoid burning agricultural land.
Building more teams of volunteers at the community level – Masyarakat Siaga Api (MSA) – across our other subsidiaries. Our MSA teams will work closely with our ERT, to put out the fire or prevent a hotspot from getting worse.
Capacity building:
Conducting joint trainings for our ERTs and MSA teams with the support of the qualified fire-fighting team, Manggala Agni, to upscale our teams' fire prevention skills.
Implementing longer-term measures like educating school children about fire hazards and helping the community shift away from using fire to clear agricultural land.
Continuous education and campaigns:
Educating members of the local community and involve them in fire patrols to better align and integrate their efforts in our fire prevention initiatives.
Relying on our ongoing campaigns and communication efforts to convey information on fire prevention – through storybooks, social media, WhatsApp, school visits, etc. – at the community level.
In 2021, more than 600 people from 90 villages participated as volunteers for the MSA. In 2022, 10 more villages with more than 80 people have joined the team. Today our MSA teams are located across our operations in Jambi, South Sumatra, Bangka Belitung, Lampung, Riau, East Kalimantan West Kalimantan, and Central Kalimantan, as we continue to strengthen our fire mitigation efforts by collaborating with the communities on long-term fire prevention through DMPA.
While GAR relies on a collaborative approach, it also focuses on a comprehensive strategy to address the issue of fire, one that also requires businesses to implement and comply by the right policies across its supply chain. Our Zero Burning Policy, adopted in 1997, prevents the use of fire in all our operations and across our value chain; we prohibit the use of fire in land preparation or development. To further ensure that our entire supply chain complies with our Zero Burning Policy, we proactively engage with our suppliers in high-risk areas too. We help them build capacity in fire management, prevention and suppression. These efforts include training workshops and follow-up visits.
To complement our efforts in fire management and prevention along our supply chain, we maintain the same vigilance in our operations too. All our estates are equipped with fire-fighting equipment and we have more than 10,000 ERT personnel stationed across our plantations, ready to deploy at a moment's notice. We actively monitor all fire incidents in our concessions and DMPA villages and ensure an accurate fire reporting to speed up our response time in sending aid, better fire containment, and transparency in reasons for fire.
In 2021, 99.9 percent of GAR's land area has remained unaffected by fire.
While all the equipment and training are necessary to manage and prevent fire, awareness about this issue is what ultimately drives change in the longer run, both socially and environmentally. Fire prevention is really about behaviour change. And changing behaviour takes more than just a strict policy – though that is needed too. It takes collaboration and a long-term commitment to training communities as well as investment in smart tech. At GAR, we have all of the above, policies, people and tech working together.
GAR plays an active role in preventing fires and haze by connecting with the community. Learn more here.
If you would like to find out more about GAR's commitment to sustainability, read here.