At Golden Agri-Resources (GAR), we grow around 10 million tonnes of fresh fruit bunches (FFBs) on more than 480,000 hectares of land every year. Getting the first phase of planting and growing oil palms right is crucial to producing the best quality oil.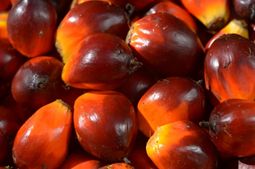 It all starts with a seed. High quality Dami Mas seeds are used by GAR farmers and are known for growing oil palms that produce higher yields and are naturally more resistant to diseases and pests.
GAR developed these special seeds in our SMART Research Institute (SMARTRI) through years of breeding and selection. Producing our own seeds ensures that our trees are as healthy and as productive as possible.

Researchers at our SMARTRI develop seeds which are able to produce higher yields.

Once the seeds have grown into seedlings, they are further nurtured in purpose built seed nurseries for up to a year. When the seeds grow into plants with around 12-15 green leaves each (this takes around 12-14 months), they will be transferred to the plantation and planted.

Dami Mas DxP seedlings. Photo credit: Dami Mas

Each plant is planted just before the start of the rainy season in Indonesia. This means that the plants have time to set up a root system before the dry season arrives. Each of them is carefully placed in a grid, with more than 100 trees for every football field-sized piece of land. As the tree grows, it is carefully fertilised and protected from pests—we even use barn owls to help farmers with this challenge in the most natural way.

There are more than 100 trees for each piece of land the size of a football field

It takes about four years for oil palms to produce fruits suitable for harvest. Each tree will then continue to produce fruit for up to 30 years, at which point they will have grown to around 40 feet tall. Our farmers make use of the latest agricultural techniques developed in partnership with CIRAD – the French agricultural research centre – and our farmers are supported by satellite analysis of the entire plantation—enabling fertilisers and crop science to be used where it is needed.
Palm fruits grow in dense bunches, each weighing between 10 and 25 kilogrammes, and containing many thousand individual fruits. A healthy productive tree will produce 12 to 14 of these bunches each year. Once ripe the fruit will turn bright red orange, indicating that it is ready to be harvested. The orange colour comes from a high concentration of beta-carotene, the organic pigment that also gives carrots, sweet potatoes, and pumpkins their colour.

Each fresh fruit bunch can weigh up to 25 kilogrammes.

At harvest time every month, each FFB must be dislodged using a very long sickle, which allows the skilled harvester to reach the lofty heights of the tree. The ripest fruits which contain the most oil fall free of the main bunch, meaning they are the most prized. Each fruit can contain up to 25-30% of oil – one reason why oil palm is the most efficient oilseed crop in the world.

The fruit is harvested using a long sickle.

After harvesting, the FFBs are collected and loaded onto a truck to be transported to one of GAR's palm oil mills.
Each of the thousand or so fruits within the bunch is made up of a hard seed (the kernel) surrounded by the flesh of the fruit (mesocarp). At the mill, very little of the fruit is wasted as the mill turns both the seed and the flesh into palm oil and palm kernel oil respectively.
These ingredients will eventually form a core part of many products we see on the supermarket shelves and enjoy daily. And any fruit wastage is recycled back into the plantation as fertiliser or to the mill as biomass fuel.

Little of the palm fruit is wasted as the kernel and flesh are both used to produce oil.
Still having questions about palm oil and its uses? We provide answers to some frequently asked questions on palm oil.
Click here to discover the stories behind the extraordinary, everyday lives of the people transforming palm oil.