The past two years have been a challenging time for businesses due to the COVID-19 pandemic. While the COVID-19 pandemic is not yet ended, with a vaccine and booster insight, there is at least a light at the end of the tunnel—along with the hope that 2022 will be better.
As 2021 draws to a close, there is no better time to look at the four palm oil trends to watch in the coming year.
1. A stronger palm oil production is expected in 2022 compared to 2021
Indonesia and Malaysia have dominated the global palm oil production since 1980. Based on 2020 data, Indonesia accounts for 60 percent of output and Malaysia accounts for 24 percent, which collectively account for 84 percent of the global palm oil supply.
What is the 2022 prediction for palm oil production? According to Oil World, the global production of the four vegetable oils—palm oil, sunflower oil, soybean oil, and rapeseed oil, is estimated to increase by seven million tonnes in 2021/2022, the highest growth in four years.
Indonesia Oil Palm Research Institute's (IOPRI) confirms that Indonesian palm oil output will show a positive trend for next year. It reports that national CPO output will rise by 2.1 percent to 49.4 million tonnes in 2022 compared to an estimated 48.4 million tonnes in 2021.
2. Plant-based foods and diets on the rise
Over the last few years, more and more consumers are choosing plant-based food and diets. This shift is driven by increasing health-consciousness and environmental awareness. Data by the Plant-Based Foods Association shows that the sales of plant-based food in the United States increased 27 percent in 2020 and bringing the total market value to US$7 billion.
The rapid growth and popularity of plant-based products have made countries like China, India, Japan, and the USA, implement regulations concerning plant-based products. Based on our analysis, those countries have similar general requirements—the product does not contain any animal-derived ingredients and all ingredients should comply with the relevant regulations or food safety standards. On labelling, each country has different requirements. For example, China requires to include the words "plant" or "plant-based", etc on the product's name. Meanwhile, Japan requires the raw materials' name to be labelled with its common name. If the food is made from soybeans, "soybeans" will be used as the raw material's name.
Golden Agri-Resources (GAR) not only focuses on increasing yields in the field but also works to create better food products for our consumers. As we have seen an increased interest in plant-based foods in the market, our R&D team has new concepts to meet these requirements. Our Marunda R&D Centre also allows us to develop plant-based, healthier versions of snack foods, which are both delicious and nutritious for our end consumers.
3. EU legislation on traceability
Traceability has been on the wish-list of many actors in many agri-commodity supply chains for years. In November 2021, the EU Commission proposed a requirement for European operators and traders of deforestation-risk commodities to achieve and submit traceability to plantation or farm plots for each shipment. The EU intends to implement deforestation-free commodity supply chains to protect the world's forests, reduce greenhouse gas (GHG) emissions and biodiversity loss. If all parties agree with the proposal by early 2023, the legislation will enter into effect in 2024. Not just the EU, the UK and USA are also preparing legislation to address deforestation linked to agri-commodity production.
GAR is committed to ensuring that our palm oil operations are deforestation-free, traceable and empowering society and communities in line with our GAR Social and Environmental Policy (GSEP). All third-party suppliers are required to comply with the policy as well. In the last few years, we have been working with our suppliers to complete our Traceability to the Plantation (TTP) project. To date, we have achieved 95 percent full TTP for our palm supply chain.
4. Indonesia pledges at COP26
At the COP26 this year, the President of Indonesia Joko Widodo (Jokowi) announced Indonesia's commitment to transforming its forest and land-use (FOLU) sector into a net carbon sink by 2030.
To help realise this commitment, President Jokowi signed the Presidential Regulation Number 98/2021 on the Economic Value of Carbon in October. The regulation will trigger the development of an emissions trading system, carbon offset, carbon cap-and-tax instrument, and result-based payment mechanism in Indonesia. It also provides corrective measures and clarity for carbon project developers and stakeholders of existing and upcoming international carbon markets.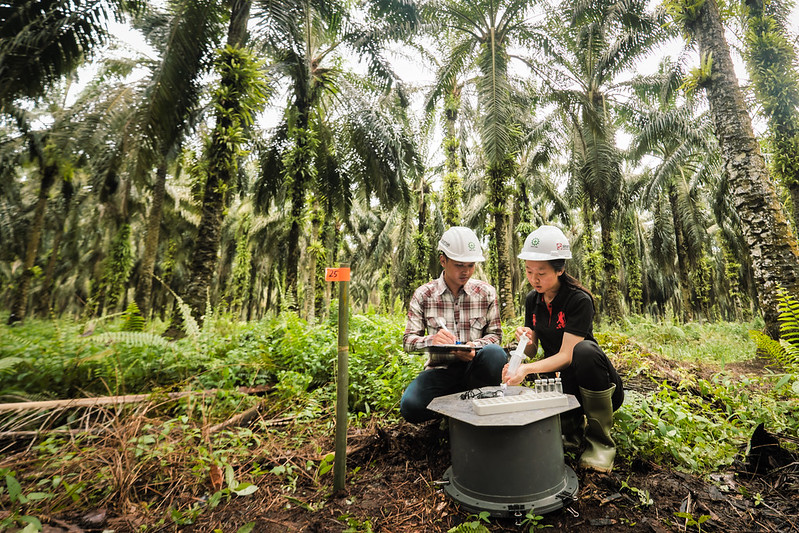 GAR sees climate action as a priority and we support the Indonesian Government in achieving FOLU carbon net sink by 2030. We recognise that emissions resulting from land-use change and cultivation are among the most significant impacts for any agribusiness. One way we are contributing to the avoidance of emissions is through the conservation of 78,000 hectares of High Carbon Stock (HCS) and High Conservation Value (HCV) areas. Since early 2020, we have also implemented the use of coated urea fertiliser, which further contributes to GHG emissions reduction.
COVID-19 pandemic has changed our ways of working. At GAR, we have to quickly adapt with the current situation and continuously improve our progress to achieve our targets and transform our supply chain. We have invested technology and online tools to continue implementing our initiatives. Online webinars and SMART REACH (SMART Remote Engagement, Assessment and Conference (call) from Home) are some of the examples. With the right system in place, we believe that we can achieve our goals towards a more sustainable palm oil industry.
Read about our sustainability progress and future commitments in our latest Sustainability Report here.