Sowing the seeds

of a sustainable future

The quality of the seeds is the most critical factor in maximising palm oil yields. Oil palms with high yield are not only good for business, but also good for sustainability, as that means less land required to produce the same amount, or more, of palm oil.

As an integrated seed-to-shelf agribusiness, Golden Agri-Resources (GAR) produces our own premium seeds to ensure genetic purity and reliable seed supply. Our subsidiary, Dami Mas Sejahtera, is the leading Dura x Pisifera (DxP) oil palm seed producer in Indonesia. The Dami Mas DxP seed delivers earlier and higher oil yield rates – traits highly desired by oil palm growers.

The latest innovation from our R&D team is a disease resistant seed variety. This new variety is resistant to fungi which cause stem rot and adversely affect palm oil yields.

Our R&D team develops these premium DxP seeds through stringent and robust breeding experiments. All research is conducted by the Plant Production and Biotechnology Division based in our state-of-the-art SMART Biotechnology Centre with the aim of developing more resilient and productive oil palm seeds.
Performance
Dami Mas DxP seeds are renowned for their performance.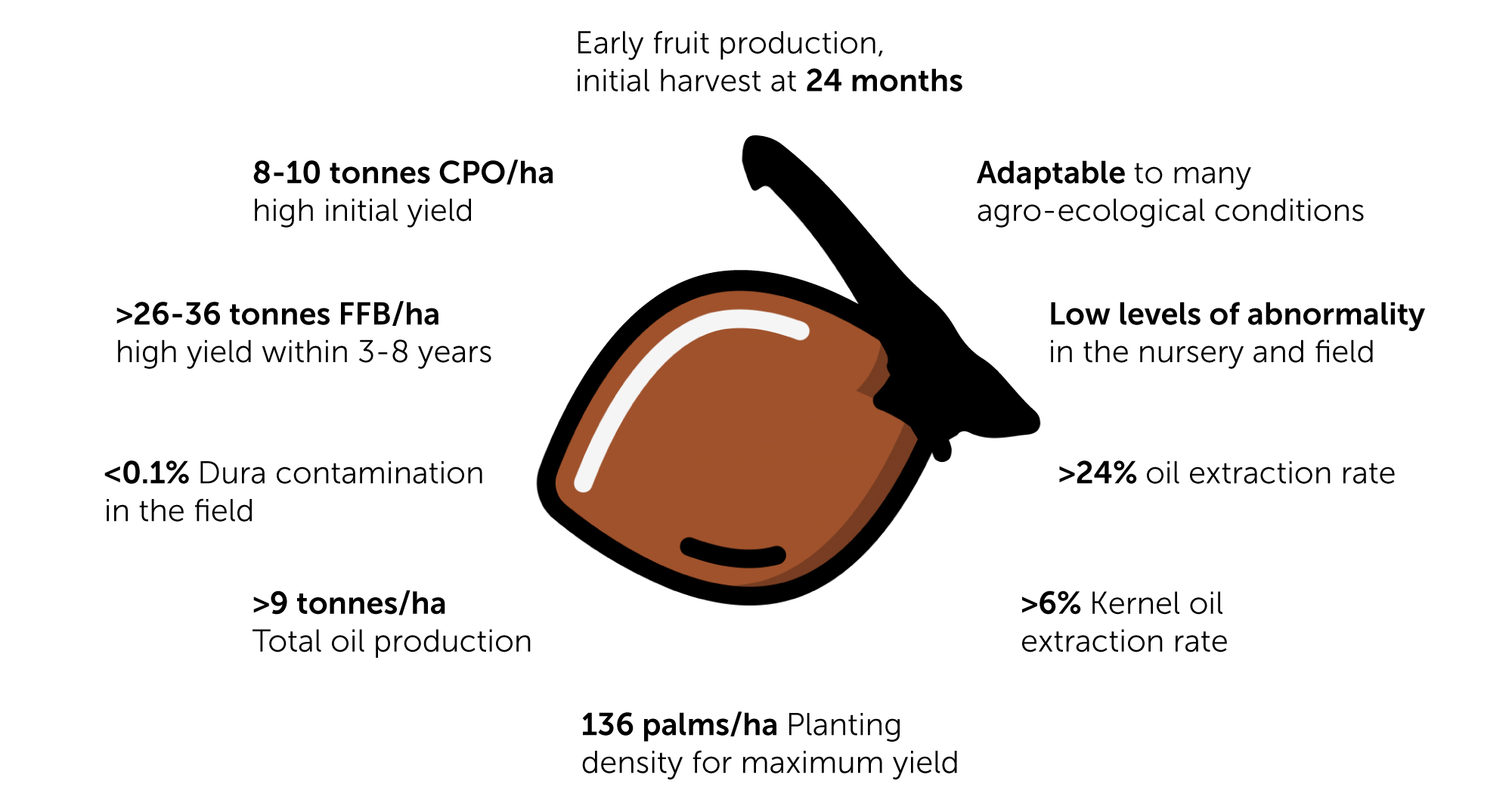 Purchase your oil palm seeds here
Pedigree
Cultivated from heirloom parent plants Deli dura (female) and Avros pisifera (male), through genetic mapping and stringent breeding, the pedigree of our Dami Mas DxP oil palm seeds can be traced back to 1922.
This chart explains the ancestry of our premium DxP seeds.
GAR's premium seeds are products of innovation coupled with years of stringent research and development. These seeds are also shared with our plasma smallholders, so the work carried out is extremely important in laying the foundation for future generations of sustainable palm oil cultivation.
Our R&D team has also developed new planting materials through tissue culture –– which are expected to have exceptionally high yield. More than 2.5 million clones of this revolutionary new planting material have been produced thus far. Once matured, Eka 1 and Eka 2 seedlings will increase palm oil yields to the highest levels in the industry without additional land use, cementing GAR's legacy as a leader in sustainable oil palm production.
Speak with our product experts to find out more about GAR's premium seeds