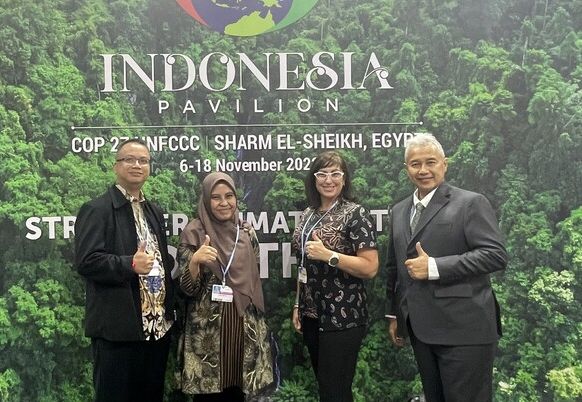 As a first-time attendee of the Climate COP, I'm still reflecting on the cacophony of COP27. The sheer scale of the event, with more than 33,000 delegates making the trip over to Sharm El Sheikh in Egypt, was overwhelming and triggered all the familiar tropes about the carbon cost of the event itself. I have no doubt that the coming together of policymakers, scientists, and business people, the actors central to the necessary action to secure the planet's future, is vital. However, I wondered, with so many voices talking, was anyone actually listening?
It turns out, to a certain degree, they were. Pakistan's warning of "What goes on in Pakistan won't stay in Pakistan" (emblazoned on the entrance of the country's pavilion) rallied a response from the developed world, with commitments on a loss and damage fund – surprising and very welcome news. Egypt lived up to its promise to put food and agriculture on the climate agenda. And while some campaigners may have been disappointed with the outcomes, the fact that agriculture was given a seat at the table should be welcomed. What remains elusive is a real financial investment in the kind of food systems transformation we need if we are going to reduce the climate footprint of a sector which is responsible for 30 percent of global emissions.
 Investment in our supply chains is pushing the palm sector in the right direction
For GAR, and more broadly the palm oil industry, the Agriculture Sector Roadmap to 1.5°C, which complements the incorporation of food and agriculture into the UNFCCC process, is a major milestone. I'm truly proud of the leading role the palm oil industry has played in shaping the roadmap and targets, after years of investment in our supply chains to eliminate deforestation as well as address forest fires. It was refreshing to see recognition of Indonesian efforts to tackle this particular source of emissions, with multiple organisations acknowledging the fact that Indonesia had recorded its fifth straight year of reduced deforestation, and that forest loss specifically attributed to palm oil had hit a 20-year low. This success can be attributed to the combined impact of government regulation and corporate commitments and demonstrates the importance of working closely with producer country governments.
Since the establishment of GAR's Forest Conservation Policy back in 2011, and the implementation of the GAR Social and Environmental Policy in 2015, we've been working consistently to drive down deforestation associated with our supply chain. An essential first step in this effort has been our commitment to traceability to the plantation – this year, we have reached around 96 percent full traceability to the plantation for our total palm supply. Traceability gives us a greater understanding of the make-up of our supply chain and the kinds of interventions and support that will help us move towards a more responsible and sustainably produced palm oil supply.
For example, through projects like Sawit Terampil, we can support smallholders' livelihoods, improving yields whilst eradicating deforestation linked to agriculture expansion. Through our Participatory Conservation Planning efforts with communities around our concessions, we have identified additional areas of forests worthy of protection. And through our work with larger suppliers, we are supporting their commitments to forest protection. Together, these programmes and projects ultimately contribute to reducing emissions linked to deforestation within the palm sector and, more positively, contribute to the Indonesian Government's ambitions of achieving FOLU as a net carbon sink by 2030.
Addressing the elephant in the room to achieve the 'last mile' transformation 
However, we know that the efforts of individual companies alone will be insufficient. The elephant in the room is financing, investment is needed to create inclusive as well as climate friendly value chains.
What we need is a significant uptick in the financing of agriculture and food systems transformation, to address this sizeable contributor to global emissions. And currently, global financial flows to address adaptation and resilience in agriculture, forestry and land use are trailing significantly behind the transition investment for energy and transport. According to the Climate Policy Initiative only two percent of the roughly USD 850 billion available in climate finance flows in 2021, went to support AFOLU.
To achieve the 'last mile' transformation in palm oil, where smallholders and their communities keep forests standing, we need more than just the contribution from our supply chain partners. We need to provide smallholders and communities a livelihood that is economically as attractive as clearing forests to grow a particular cash crop. To achieve that, we need the same commitment to a Just Transition for Agriculture as we are seeing in the Just Transition for Energy. Finance needs to particularly support the smallest contributors in the global food systems, smallholder farmers. Large businesses like GAR are already contributing to upskill smallholders to more sustainable agricultural practices – looking to increase yields whilst minimising forest loss. Financial investment will be crucial to securing more rapid and at scale progress.
At COP27, we saw positive progress through the launch of the Forest and Climate Leaders' Partnership (FCLP) to help to deliver the commitment made at COP26 to halt and reverse forest loss and land degradation by 2030. We are seeing governments push for financing around forest protection and the just transition through support for smallholders. For example, Brazil, the Democratic of Congo and Indonesia, have – after decades of talks – formed an official partnership to cooperate on forest preservation and increase funding through the United Nations' REDD+ program. Optimistic investments – like the $20 billion deal financed by governments and financial institutions with Indonesia that would shift the major emitter's power generation from coal to clean energy – need to be developed to support agricultural transformation too. And it cannot all be investments in alt proteins, or plant-based meat alternatives, as valuable as these innovations are. There must be meaningful investment in the livelihoods of agricultural and rural communities, to deliver real income benefits for keeping forests standing. Improvements such as high quality seeds, precision agriculture technique, use of internet of things (IoT) and coated fertilizers, composting, new tools for upkeep and harvesting, will overtime increase productivity and reduce costs. All of those improvements can be made available to smallholders and to a certain extent to rural communities once the smallholders are organised and resources are shared by other growers, processors, traders, financing institutions and consumer good manufacturers.
Amidst the noise at COP27, I heard welcome recognition of the role agriculture and food must play in helping us achieve a 1.5°C future. I hope political leaders and the leaders of our global financial institutions were also listening. Agriculture, forestry and other land use needs a greater than two percent slice of climate finance to rapidly decarbonise. We need investment in agriculture and specifically in smallholders, to drive adaptation, reduce the sector's total emissions footprint and create resilience among rural communities, who are and will continue to be some of the hardest hit by climate change.
Additional references:
https://www.un-redd.org/post/record-low-deforestation-rates-indonesia-despite-ongoing-pandemic
https://research.wri.org/gfr/latest-analysis-deforestation-trends?utm_campaign=treecoverloss2021&utm_medium=bitly&utm_source=PressKit
https://nusantara-atlas.org/indonesian-deforestation-and-plantation-expansion-slow/