Reducing our

operational footprint

Sustainably produced palm oil requires ambitious commitments on many fronts. In addition to our conservation efforts, Golden-Agri Resources (GAR) is also committed to reducing the environmental footprint of our operations overall.

Implementing industry best practices and enforcing responsible production methods has enabled us to reduce greenhouse gas (GHG) emissions, improve water use, and waste management. At the same time, with the urgency of climate change and biodiversity loss, we acknowledge that there is more that can and should be done. By leveraging technological advances and innovating new processes, we want to achieve more.
Greenhouse gas emissions
One key way to mitigate climate change is reducing GHG emissions. We recognise that the largest source of emissions in our operations is from cultivation at our plantations. GAR is committed to reducing this through methane gas capture and composting, among other efforts.
Read more here
Managing our water footprint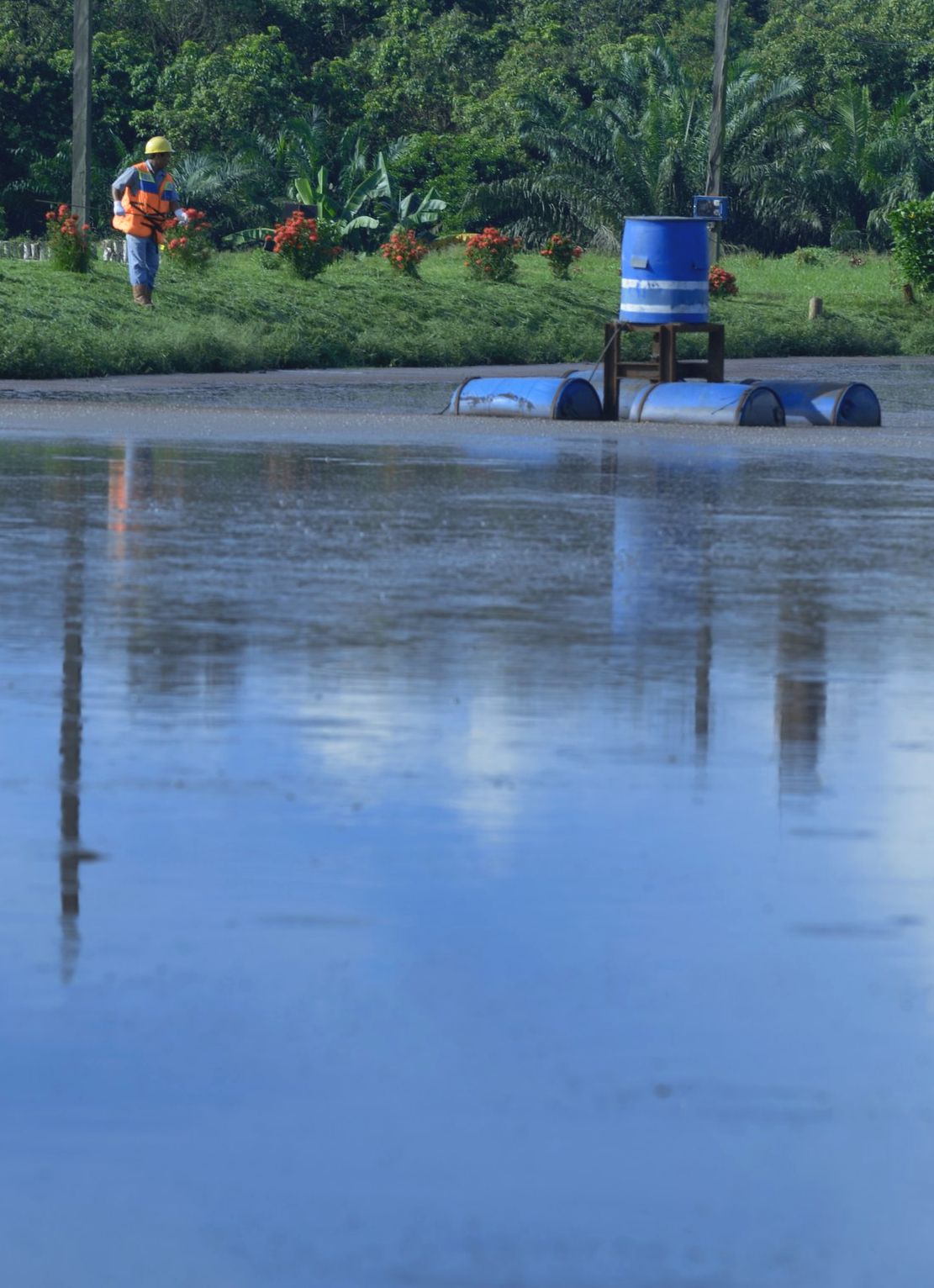 Water is a vital resource for our operations and the communities where we operate. We recognise that water availability is an increasingly important issue given climate change and we are looking at ways to minimise our water footprint.
GAR's plantations are rain-fed, not irrigated, and we strive to meet all our water needs through surface water that is processed to meet the quality standards required for production. We continue to improve our water efficiency by recycling and reusing where we can.
We also follow land management practices to reduce the risk of surface and ground water pollution. These include not applying herbicides or chemicals near riparian areas; restricting the application of treated liquid waste (POME) which is used as fertiliser to 50 metres from riparian areas; and planting vetiver grass to minimise soil erosion at riparian areas.
The increasing occurrence of extreme weather phenomena like El Niño can lead to severe drought. We are exploring ways to optimise water use in our plantations through the use of advanced technology including AI.
More information on our water footprint can be found in our Sustainability Report.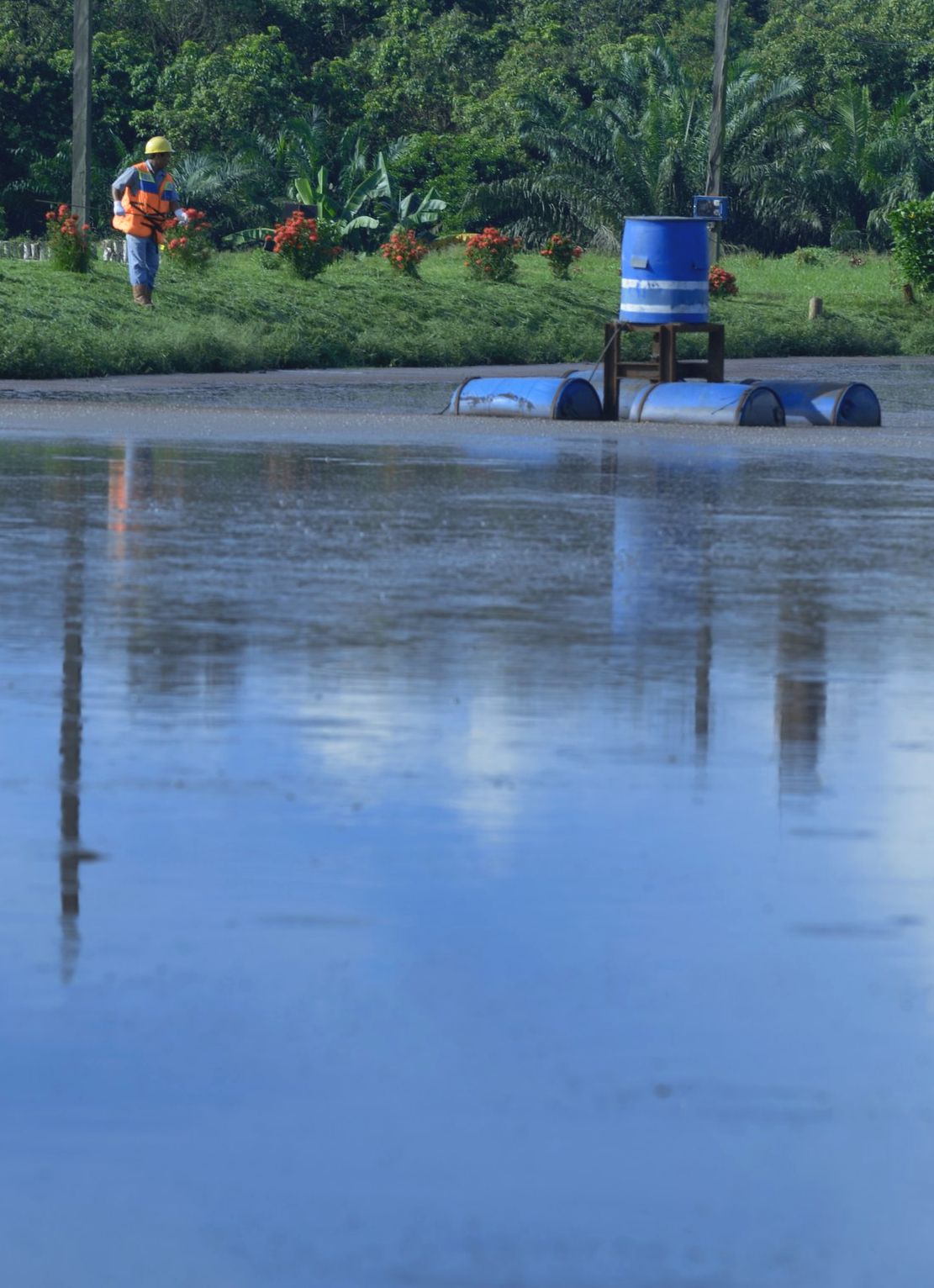 Reducing chemical pesticides
GAR adopts an Integrated Pest Management (IPM) approach, which means natural solutions and biological controls are our preferred method for controlling pests across all our plantations. This minimises economic, public health and environmental risks. Breeding barn owls to control the rat population is one example. GAR is also promoting the use of biopesticides, to enhance the health condition of the soils and the palm trees. GAR stopped using paraquat, a highly toxic weed killer, in 2016.
Find out how we manage rat populations using owls here
Zero Waste Policy
We aim to reuse, recover and recycle any waste products. Since 2015, GAR has achieved 100 percent recycling of waste from the crude palm oil (CPO) production process in our upstream operations.
We use both the solid waste (fibre and shells) and liquid waste (mill effluent) from our operations. We then treat and repurpose this waste, using it as organic fertiliser and fuel.
Our downstream waste is disposed of at municipal landfills or incinerators. Hazardous waste is collected for proper disposal by authorised third parties.
Harnessing technology and innovation to increase yields
Higher palm oil yields through R&D
Yield improvement is a key strategy to reduce our carbon footprint. Being able to obtain higher yields from existing agricultural land through better seed stock means higher revenue while potentially reducing the need for more agricultural land. GAR harnesses biotechnology to improve our planting material and seed stock, which leads to higher oil palm productivity rates within our plantations. GAR funds this research, being carried out at our two state-of-the-art research centres.
The SMART Research Institute (SMARTRI) in Libo, Riau is our flagship research facility with a team of 80 researchers and scientists focusing on improving practices in agronomy, breeding, and crop protection, all of which contribute to sustainable palm oil production. SMARTRI is ISO 9001:2008 certified for its Quality Management System and accredited with ISO 17025 for its analytical laboratory.
Our researchers in SMARTRI work on a range of projects, most notably with the University of Cambridge in a long-term collaboration researching ecosystems in oil palm plantations.
The SMART Biotechnology Centre in Sentul, Bogor, serves as an innovation hub housing interdisciplinary fields including Molecular Engineering; Molecular Breeding, Bioinformatics; Biochemistry; Microbiome Technology; Proteomics, and Tissue Culture. It is ISO 9001:2015 certified for Quality Management Systems.
Our scientists in the Plant Production and Biotechnology Division conduct research on high yield planting material that includes the production of oil palm clones through micro propagation and tissue culture.
Eka 1 and 2:
Super high-yielding oil palm seeds
Following years of R&D in our two facilities, GAR launched super high-yielding seeds
Eka 1 and Eka 2
in 2017. This revolutionary planting material is capable of producing over 10 tonnes of CPO/hectare/year, versus the national average of 3.6 tonnes/hectare/year in Indonesia. The new planting materials were developed through conventional selection and tissue culture from elite parent palms.
Eka 1 and Eka 2 are registered under Indonesia's Catalogue of Seeds and will help GAR combat deforestation as palm oil yields will be increased to the highest levels in the industry, without increasing size of land under cultivation.
SMARTRI and SMART Biotechnology Centre are now working on creating sufficient clonal seed stock to be planted in the estates in the next few years.
Oil Palm Genome Project
GAR is an active participant in the Oil Palm Genome Project, a worldwide initiative by a consortium of 16 reputable research organisations from seven countries.
The project uses molecular markers to support conventional breeding. The project's main objective is to map the genome of several oil palm varieties, including identification of specific traits such as disease resistance, drought tolerance, superior quality oil, and high yield.
This will allow us to determine whether the plants pass on their qualitative and quantitative traits, without having to wait for the oil palms to mature. We have a dedicated team in our Plant Production and Biotechnology Division and our researchers have been involved in related research activities in Spain and France.
Ensuring consumer safety and product quality
Our consumers rely on GAR brands for safe and high quality products that they can trust. We use international standards to ensure the quality of our products, bar codes for traceability, and we systematically record expiry dates and batch data.
All of our palm oil refineries in Indonesia are accredited with ISO 9001 and three plants have ISO 22000 certification, which recognises that they adhere to strict international food safety standards. Three plants also have FSSC 22000 food safety certification. The six facilities also have OHSAS 18001, ISO 14001, Halal and Kosher certification.
In addition, our refineries in Lampung, Belawan, Marunda, Tarjun and Lubuk Gaung have FDA accreditation and we have GMP+B2 certification for lauric products at the Belawan, Lampung, Lubuk Gaung. Five of our plants also have CPPOB certification (Good Manufacturing Practices for Processed Food).
We are also committed to rolling out the Hazards Analysis and Critical Control Point or HACCP food safety system across our operations.
Our Downstream Research and Development department based in Marunda is also working on the nutritional aspects of palm-based food products. Its current focus includes making diets healthier by minimising 3-monochloropropane diol (3-MCPD) and glycidyl fatty acid esters (GE) levels, eliminating industrial trans-fatty acids, and exploring ways in which palm/palm kernel oil could be used as an alternative in processed foods.
Learn about the role palm oil plays in food nutrition here
Read more about GAR's R&D efforts in improving responsible production