Price Outlook Conference or POC is the largest annual gathering of producers, traders and customers in the vegetable oils sector, specifically palm, globally. After a three-year hiatus thanks to COVID, it was back in all its bustling, chaotic glory in Kuala Lumpur, Malaysia, last week.
The Golden Agri-Resources (GAR) commercial and sustainability teams were there in full force, showcasing our sustainability credentials alongside our quality products.
What did we learn? As one trader put it, "the POC should now be renamed the SOC as sustainability was 80 percent of the customer conversation".
Before COVID, buyers showed growing demand for sustainably produced palm-based products, but price was still the main concern. With new regulations, such as the EU regulation on deforestation-free products, the conversation has shifted to sustainability and how to provide credible zero deforestation proof.
Indonesian palm oil has a good story to tell
Deforestation rates in Indonesia are on the decline and have been for the past five years, even prior to the pandemic and despite the recent high prices for palm.
A 2022 study by Trase Insights found that deforestation linked to palm oil in Indonesia has waned by 82 percent over the past decade. This was due in part to forest-positive policies and agribusiness companies tracing and disclosing their supply chains in reports.
At the national level, Indonesia has reaffirmed its commitment to limiting the increase of the earth's temperature below 1.5 degrees Celsius. Indonesia submitted its Enhanced Nationally Determined Contribution (ENDC) ahead of COP27, increasing their target to reduce emissions to 43.20 percent by 2030, about 2 percent higher than initial targets. Indonesia also has put into effect a decree to execute its Forest and Land Use (FoLU) Net Carbon Sink 2030. This is part of the country's climate efforts aimed at reducing its emissions by 60 percent by 2030 by protecting its forests.
Although the palm industry cannot be complacent, trend data suggests that the combination of government policies and corporate commitments is working to halt commodity-driven deforestation.
We expect further market and production regulations aimed at the sustainable transformation of the palm oil supply chain, including the US Forest Act. With continued global market volatility due to the Russia-Ukraine conflict and climate change-linked impact on production in other crops, palm sustainability will continue to be important.
Sustainability data has a market value
Showing that you source from a responsibly managed, sustainably produced supply chain has never been more important. And traceability is the foundation of such a supply chain. This has been a key part of our sustainability strategy since 2015 when we achieved 100 percent traceability to the mill. At the end of 2022, we achieved 98 percent Traceability to The Plantation (TTP) for our palm oil supply chain.
Beyond traceability – which tells you where you are sourcing from – we also gather other information on sustainability performance. This ranges from deforestation-free evidence to fair treatment of communities.
Our investment in TTP gives us an unprecedented understanding of our supply chain. We have mapped large, medium and smaller mill and estate operators, as well as over 100,000 smallholders. While 98 percent TTP might seem close to 100 percent, the reality is vastly different.
Supply chain variance – the movement of new suppliers in and out of our supply chain – involved onboarding 113 new suppliers in 2022. Securing TTP data and vetting them for No Deforestation, No Peat, and No Exploitation (NDPE) compliance is a massive undertaking. In addition, the final two percent of our supply is mainly made up of smallholders. To date, we have mapped about 120,000 out of 800,000. Completing the last two percent will be challenging.
We monitor and report on our supply chain sustainability performance using the No Deforestation, No Peat and No Exploitation Implementation Reporting Framework (NDPE-IRF).
Satellite monitoring is vital to show our NDPE commitments are being met. We work with multiple external experts to analyse satellite images over our supply base. Such analysis, along with site visits and supplier self-declarations, guides our engagement efforts with suppliers and smallholders.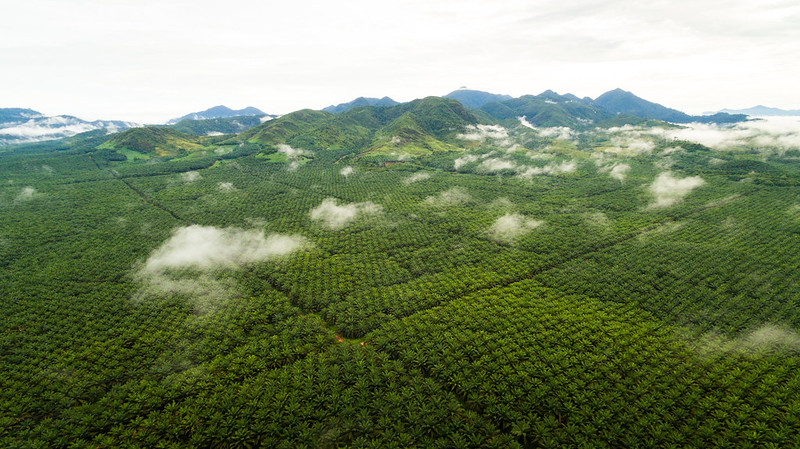 Collecting, analysing and managing supply chain sustainability data is time and resource intensive. We go the extra mile by having our data verified by 3rd parties such as Control Union and PWC. With data becoming increasingly valuable, this investment has positioned us well to meet market requirements for proving a deforestation-free supply.
Buyers are seeking palm suppliers that offer confidence in a deforestation-free supply chain. The next step in transforming the industry is to view sustainability data beyond mere numbers and consider the people whose livelihoods depend on palm.
Investment accelerates palm supply chain transformation
40 percent of Indonesian palm oil production comes from smallholders who are a significant part of our supply chain. We are committed to investing in their sustainability transformation to keep them in our supply chain while meeting market sustainability expectations.
Our Sawit Terampil programme supports independent farmers nationwide by providing group coaching and targeted individual support to implement sustainable agricultural practices. The goal is to involve over 4,000 farmers.
Furthermore, we support the Siak Pelalawan Landscape Programme (SPLP) – an initiative that aims to achieve sustainable palm oil production in the Siak and Pelalawan districts in Riau, Indonesia. Under this initiative, we have assessed 91 percent of our Siak district suppliers and 78 percent of our Pelalawan district suppliers. We have also led intensive training and coaching for them and conducted field visits to suppliers to improve TTP.
At POC, buyers were encouraged to contribute to these transformation initiatives. Only through collective contribution will the industry achieve lasting sustainable practices.
Beyond POC
Looking ahead, the conversation on how to fund industry transformation and share sustainability data legally, appropriately and on-time will continue. We are looking for collaborators to co-invest in our ongoing programmes, particularly those linked to smallholders.
Whilst deforestation, as ever, was the top item on the agenda, social issues, labour and human rights are the next regulatory concern. The No Exploitation component of the NDPE Implementation Reporting Framework rolls out this year and will add a new, valuable component to sustainability data.
If you want to learn more about GAR's commitment to responsible sourcing, read here.
Refinery-level profiles are freely available here.